Yesterday, I blogged about reading challenges and mentioned that today I would talk about the one I'm planning on participating in this year. It is ....
The 2011
To Be Read
(TBR) Challenge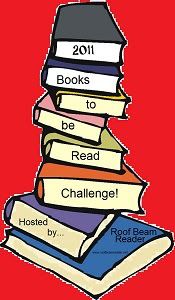 The Salon.com
article
I mentioned yesterday also favoured this reading challenge, so perhaps I'm just really open to the power of suggestion, but I couldn't help but feel that the goal of this challenge, created by the
Roof Beam Reader
, is right up my alley: "To finally read 12 books from your "to be read" pile, within 12 months."
My "to be read" pile is threatening to topple over and bury us all one of these days, so any progress I can make is great. The books that are on it are generally ones that I own—that I've been really excited about and bought, rather than borrowing from the library—but that I then never get around to reading because I'm always reading library books! So here's my list ... you can expect to hear more about these throughout the year (hopefully!)
1. Zadie Smith:
Changing My Mind
2. F. Scott Fitzgerald:
The Beautiful and Damned
3. Louise Penny:
Still Life
4. Z.Z. Packer:
Drinking Coffee Elsewhere
5. Lorrie Moore:
A Gate at the Stairs
6. Sandy Balfour:
Pretty Girl in Crimson Rose
7. Nicole Krauss:
A History of Love
8. Chris Adrian:
The Children's Hospital
9. Haruki Murakami:
Hardboiled Wonderland and the End of the World
10. Mark Zusak:
The Book Thief
11. Paul Poissel:
The Facts of Winter
12. Wells Tower:
Everything Ravaged Everything Burned
Oh, and I'm allowed two alternates in case any of those prove to not be all I hoped they would:
1. Wilkie Collins:
The Moonstone
2. Susanna Clarke:
Jonathan Strange & Mr. Norrell
There's still time for you to
join the challenge as well
. It's open until January 15th. And if you don't want to join officially, you can always just make your own list or reading challenge and work toward it this year.