Hometown is a concept that invokes strong emotions. It's delightful to pick up a book that captures your hometown well. We like to talk about books with a strong sense of place, but really, it's a very personal experience. None knows your hometown like you do. So, I've asked around. And here is what folks have said.
The Gar
neau Block
, by Todd Babiak is set in the neighbourhood in Edmonton where I grew up. The characters may seem quirky and over the top, but I can close my eyes and see them fitting in well.
I pretty much consider Halifax my hometown, and in terms of that I think
Homing
by Stephanie Domet is the closest thing I've come to seeing my hometown reflected in the pages of a novel, both in its physical setting and in the lifestyles of the characters in the book.
I lived for a short time in the Garnet Hill area of Glasgow, Scotland, and read
the book
Garnet Hill
by Denise Mina precisely for that reason. I'm glad to report I got along quite a bit better than the main character in that book, which is a dark, crime novel, although I really had a good picture of her apartment in my head while I was reading.
Return
of the Native
, by Jonathan Butler is set in St. John's. The story itself if preposterous and more than irritating. The main character Udo Nome is a walker, as I was. As he walks he names the streets in old St. John's. It's almost ritualistic. He followed the same paths I did. I can almost see the cracks in the sidewalk and feel myself getting winded as I go up Barter's Hill.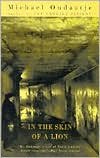 I did like Michael Ondaatje's
In the Skin of a Lion
because it was set in places that I used to bike to and wander around photographing the area, skipping stones on the lake and listening to the buzz of the big city. (Toronto)
David Fennario's
Balconville
play really captures one of the last summers I experienced in Montreal.
Any other suggestions?